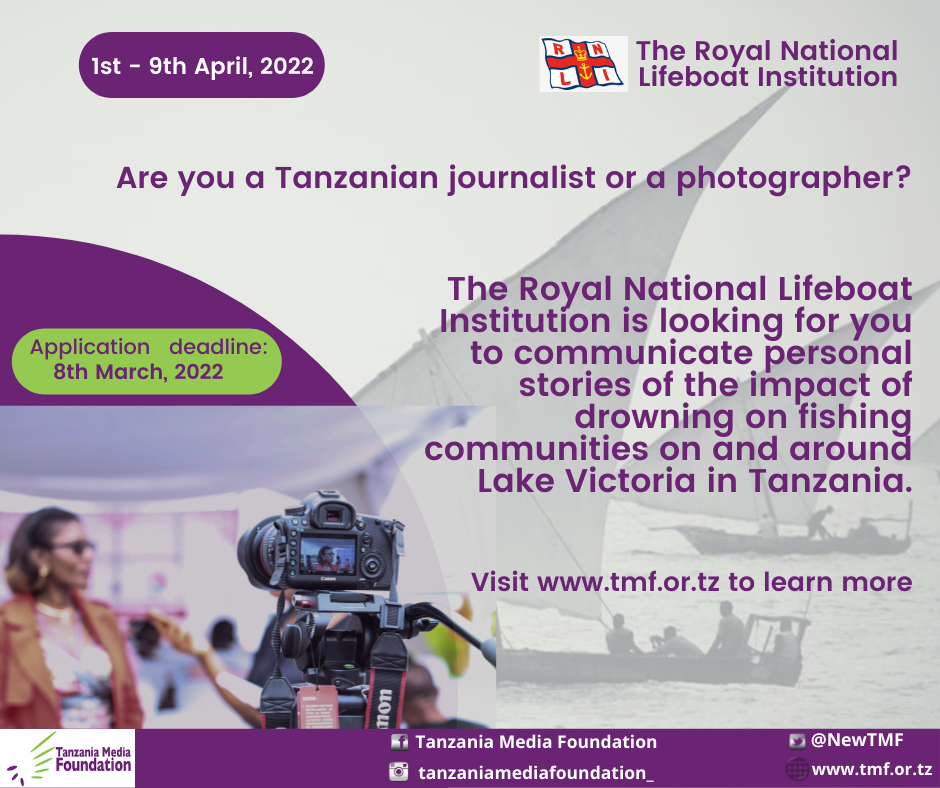 The Royal National Lifeboat Institution is looking for one Tanzanian journalist and one Tanzanian photographer to communicate personal stories of the impact of drowning on fishing communities on and around Lake Victoria, Tanzania. This work will be undertaken in early April 2022. The trip will occur over a maximum of six days between Friday 1 – Saturday 9 April 2022.
The exact dates will be confirmed in due course.
Journalist Profile
• Experienced in telling human-interest stories in Tanzania, with an interest in social change
• Willing to travel to Mwanza to complete the work over a period of 4-6 days (including travel to several islands by boat)
• Able to conduct 5-6 sensitive interviews with members of fishing communities in Kiswahili (each interview will be up to 2 hours long)
• Able to provide full audio recordings and accompanying notes for each interview (there is no need to translate these into English as this will be completed separately)
Photographer Profile
• Experienced shooting in Tanzania, with an interest in social change
• Able to produce c. 200 high resolution professional photographs which portray the personalities of the case study contributors and imagery of key themes such as:
(a) daily life by the lakeside
(b) detailed imagery of the different types of boats used by small-scale fishermen
(c) imagery of different types of boats working on the water
Find more details in the attached document.
Deadline for the applications is 8th March, 2022.