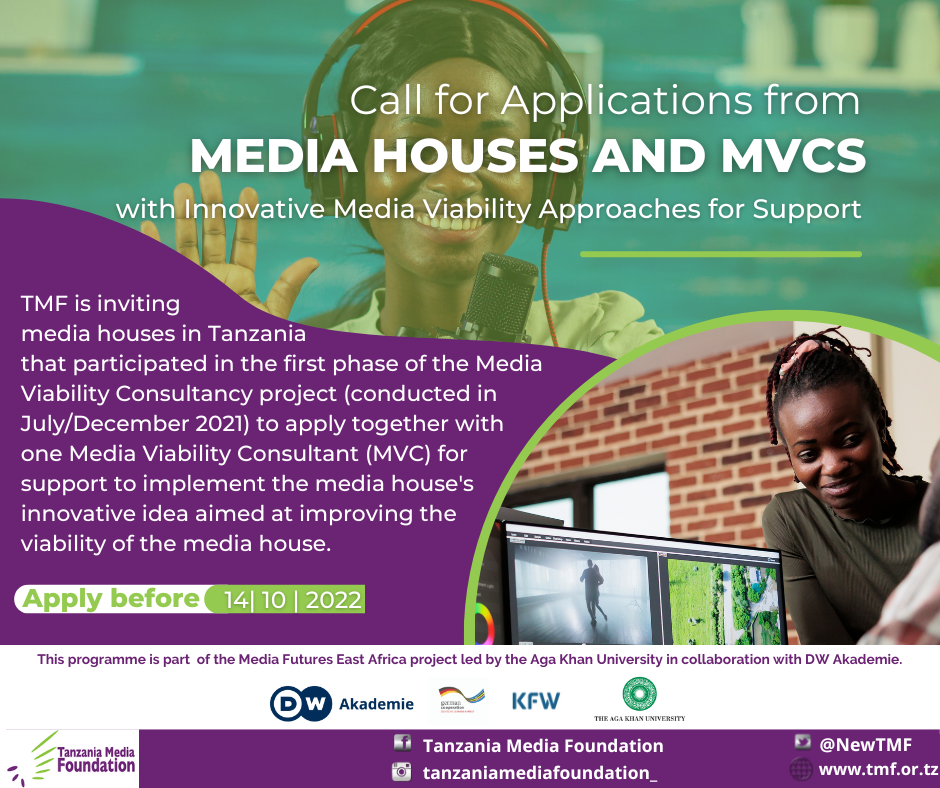 Tanzania Media Foundation (TMF) in collaboration with DW Akademie is inviting media houses in Tanzania that participated in the first phase of the Media Viability Consultancy project (conducted in July/December 2021) to apply together with one Media Viability Consultant (MVC) for support to implement the media house's innovative idea aimed at improving the viability of the media house.
The Media Futures East Africa Project that supports informed communities through viable media in East Africa, being implemented by DW Akademie and the Aga Khan University Graduate School of Media and Communications (AKU-GSMC), has engaged TMF to support the development, implementation and evaluation of new sustainability strategies among select media houses in Tanzania.
In this second phase, TMF will support mechanisms developed by small/medium sized media houses in Tanzania that participated in the first phase of the project in the implementation of innovative, sustainable media viability approaches and strategies for the media houses to become more viable.
It is expected that each media house works with an MVC to develop the said mechanisms and collaborate to provide experiential learning insights and best practice models of innovation for media viability in the respective media house.
The selected media houses and MVCs shall be supported in consolidating the new suggested approaches over a period of 5 months (from September 2022 to January 2023), each Media House working with a respective MVC on the chosen viability initiative.